Saturday, December 09, 2006
Christmas is getting closer & closer
Every year since my husband passed away I have declared that I will not put up a tree and that I will not get involved in all these Christmas excesses. But so much for good intentions.
I gave my old artificial tree to my daughter for her new apartment - then decided that one of these new pre-lit skinny trees would suit my needs and as luck would have it I was shopping at the nearby hardware store and they had all their Christmas trees reduced and if I took the floor model I got an even better discount.

Now being closely related to Scrooge I decided that was a good deal. The young man that carried the tree to my car was very nice although a bit puzzled as to why I insisted on not having it dismantled. But I am not stupid - I would not have to assemble it when I got home. The VW was a little crowded and Angus insisted on trying to chew the ornaments - he is still a puppy a figures everything is fair game as food.

As you might guess I get the tree up and of course it looks lonely as the only decoration. So I visit the VV Boutique (to you non-Canadians that is Value Village) and I acquire a whole bag load of used Christmas decorations that some one has gotten bored with or is the type of person who has a different Christmas theme every year. These cost me the grand sum of $5.00.

So glue gun in hand and Angus chasing all this great new stuff I proceeded to make the living room a Christmas wonderland.

My colors this year are cream & gold (I think I am approximately two years behind the Christmas color trends, but I am happy & that is all that matters) and Angus does not care as long as I allow him to play.

Now that the Christmas decorations are up I guess I will now have to hit the stores to buy those gifts that every year I declare I will not purchase.

So that is my goal for next week.



posted by LADYFLEA at 6:49 PM |
link
|
0 comments

Tuesday, December 05, 2006
New Items posted on eBay and The Vintage Flea
Finally life has slowed down enough for me to get back to my Antiques and Collectibles business. I have two sites I sell on - ebay and my web page "The Vintage Flea". I also have my "brick and stone store" (actually a little spot carved out of my garage). I also sell at the different antique shows in the area.
TRIFARI "ALFRED PHILIPPE" ART DECO RHINESTONE DRESS CLIP c1930
ROOKWOOD VASE - TAN WITH DAYLILYS IN RELIEF

And some items available on eBay:
VINTAGE VICTORIAN STYLE BROOCH by HOLLYWOOD
That is my news for the day. Other than we got our first snow last night and Angus (my dog) thought it was wonderfull. When he sits still I will get a picture of him playing in the snow. He is all black and really shows up.
posted by LADYFLEA at 9:39 AM |
link
|
0 comments

Tuesday, October 31, 2006
ALL HALLOW'S EVE -and nothing to do
It is Halloween Nite and nary a kid comes to my house. No I am not the Wicked Witch of the North (or any other direction for that matter). It is just that I live on a very busy street with no sidewalks and my house is set very far back from the road.

Since I have nothing to do I decided to update this blog. I have been busier than a "one armed paper hanger". Is that PC? October & November are always a bad months for me. My husband passed away in November and was sick for several months prior to that. That combined with the up coming Christmas rituals is always depressing for me - so I always take on more work than I can handle. But it keeps the mind busy.

Plus I have finally figured out what a "HREF title" is - so my web page is coming along nicely - haven't made too many sales, but at least it is not my main source on income.

I am also in charge of a fund raiser for the Cardiac program I participate in. That is always fun - trying to get door prizes and all.

Oh what is that I hear - the doorbell??? Gotta go.
posted by LADYFLEA at 8:41 PM |
link
|
1 comments

Tuesday, September 12, 2006
I have no Idea what a HREF TITLE tag is
It has been a very long time since I posted here, but I have a good reason - I think I am going crazy.
I have a web site where I sell antiques and collectibles. It has been up for about a year and so far I have sold one item. How that person found me I have no idea.
So today it is raining and there is no sense in renting the roto-tiller to start digging up the patio area (which is another project I am working on) so I decide to figure out how to optimize my site (don't you just love those $10.00 words).
So far I have talked to a nice young man, named Brandon, who tried to convince me that his company could do wonders for my site - all I had to do was give him my credit card # and he would take care of everything except paying the bill. I am sure he is not really out to rip me off - he has mouths to feed too.
So my next option was going to one of those sites where they analyze your web site for 0$ (in the hope that you will think they are great guys and you will turn all your
not
earned cash to them).
So I get my report back and that is where the HREF TITLE tag comes in - apparently I don't have one or it is not configured properly. Now you would think that a company who wants my business would not only tell me this, but also provide a way to correct it. No way.
So I decided to start dinner and have a glass of wine in order to gather my thoughts.
If I continue in this manner I will look like this :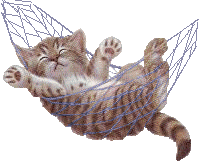 posted by LADYFLEA at 6:33 PM |
link
|
0 comments

Saturday, June 17, 2006
A Wasted Saturday
I decided to try and do something with my web page. And my brain has been fried by the heat wave.

So I spent the whole afternoon and managed to get one more item up, but it is not right and I will have to wait for my daughter to come and rescue me again.

So to make myself feel better I am going to order dinner in and drink a couple of glasses of wine and after midnight I think I might just go "skinny dipping".

I spent yesterday cleaning the pool and sweeping out the ugly fish flies. Angus chased them and ate them for lunch - well at least I know he is getting a lot of protien.

Hey, in a lot of cultures crickets are good to eat, maybe Angus knows something I don't.

Now that I have had my own little "pity party", I will go and open that bottle of wine - please join me if you like.

Then for dessert I am going to have a bowl of strawberries that I picked myself with some ice cream (calories be damned).






posted by LADYFLEA at 6:34 PM |
link
|
1 comments

Thursday, June 15, 2006
Pelee Island #2
This is the most relaxing place. The middle of the island is farmland and all around the shores are the summer cottages and B & B's. Everything has to be brought in by ferry and of course the main industry on the island next to tourism is the Winery.
The Winery grounds are beautiful and when you go inside you can go on a guided tour of the winery and they take you down to the cellars and you have wine tasting (which is very good).
As I mentioned before you can either bring your own picnic and use thier "barbies" or you can purchase all the food you want and then do your own cooking.
I highly recommend this as a great get away place.
Trip over
/>


The Ferry



View from ferry




Lighthouse



The winery gardens



Lunch

posted by LADYFLEA at 11:28 AM |
link
|
1 comments

Wednesday, June 14, 2006
A Relaxing Day with Friends at Pelee Island
Went with four of my best friends very early today to Pelee Island , the most Southern place in Canada. If you look at an atlas it is on a line with Italy and is a wonderful wine making area. We visited the Pelee Island Winery. They have neat facility where you bring your own food or purchase it there and barbecue. We took our own salads and purchased our meat there. We naturally had to have wine, so we did the wine tasting thing and decided on which wine we wanted. Like I needed more wine after I had taste tested three kinds.
But the best part is that you have to take a ferry ride of approximately 90 minutes and it was a glorious day to be on the water.
I am now tired and sunburned (not bad though) and will post some pictures tomorrow, when I know my own name.
Technorati tags: Pelee Island, winery, wine
posted by LADYFLEA at 7:14 PM |
link
|
0 comments

---